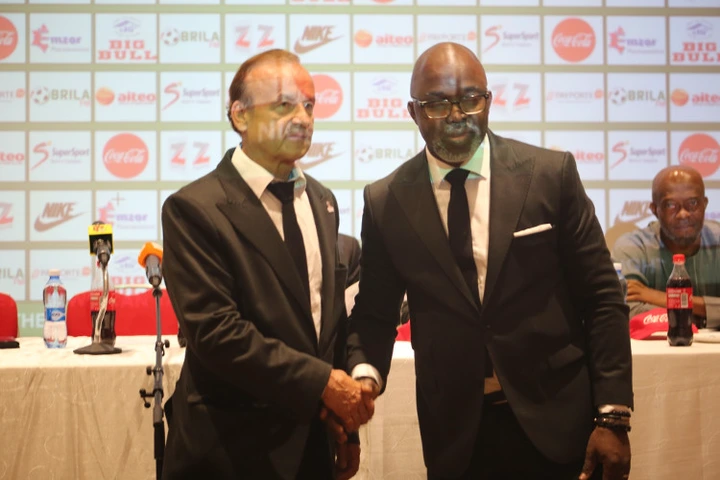 NFF President Amaju Pinnick in a handshake with Gernot Rohr/thenff.com
The Nigeria Football Federation (NFF) has said qualification for the 2021 Africa Cup of Nations (AFCON) is the priority of Super Eagles coach Gernot Rohr.
There have been reports that Rohr will dump the Super Eagles after an impressive 1-1 draw with five-time World Cup winners Brazil.
According to the speculation, the German who guided Nigeria to a third-place finish at the 2019 AFCON will leave the side due to a poor working relationship with the NFF.
However, a source in the NFF has faulted the claim, saying Rohr is very much committed to seeing that the 2013 AFCON winners make it to the next edition of the competition.
According to him, Rohr has a solid relationship with the NFF just as the football body is excited with his work for the West African side.
"We can't react to speculations now and rumours. First, we have big games ahead of us in November and that's what we are focused on right now," the source told Soccernet NG
"2021 AFCON is how many years from now…and we just finished AFCON few months again and we are already talking about two years from now.
"Gernot Rohr is building a very strong team, a team that we believe can do well in 2021 and more importantly do well at the World Cup.
"There is a lot of work ahead of us and there no need for us to dwell upon this issue when there are assignments ahead of us.
"Rohr is enjoying the work and the NFF are pleased with him, most especially with the progress of the team. All those speculations are just mere rumours."
Nigeria will take on the Benin Republic next month in a 2021 AFCON qualification match.