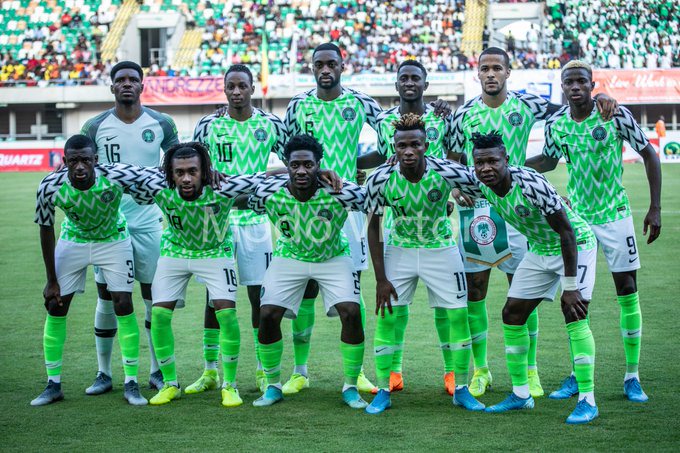 Super Eagles were the ones playing the football but it was Nigeria's National Television Authority that took over the discussion during and after the game for its horrific live broadcast of the match.
WHY NTA WAS FORCED ON NIGERIANS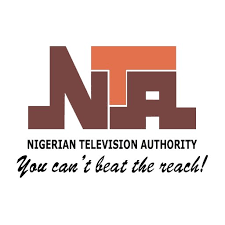 Late last week, SuperSport announced it will no longer broadcast any CAF content after the African football body abruptly terminated its $1-billion TV and marketing rights deal with broadcast agency, Lagardere Sports, through which SuperSport acquired broadcast rights.
"We are in a difficult position where we cannot broadcast the CAF games when we don't have a firm contractual arrangement in place" said Joe Heshu' MultiChoice group executive for corporate affairs.
"SuperSport had previously acquired these broadcast rights from Lagardère." He added
CAF cancelled the deal with the French-based company after an Economic and competitions court in Egypt pronounced it null and void citing a breach in competition rules.
This reality has thrown Nigeria and some parts of Africa into CAF content blackout which includes the ongoing 2019 U23 AFCON holding in Egypt, the AFCON 2021 qualifiers which began Thursday night and any other CAF related competitions.
In the light of this, Nigeria had to be creative in other to have the Nigeria vs Benin republic game on Thursday shown live to its numerous audiences, options were few and far between leaving NTA as the only choice to broadcast the match from Uyo.
No prizes for guessing how that went. Within 5 minutes of watching, the hashtag #ShameOnNTA was already gathering numbers on Twitter trend list, and was topping the chart my the time the game was over.
Let me share the hilarious ones with you before the serious ones.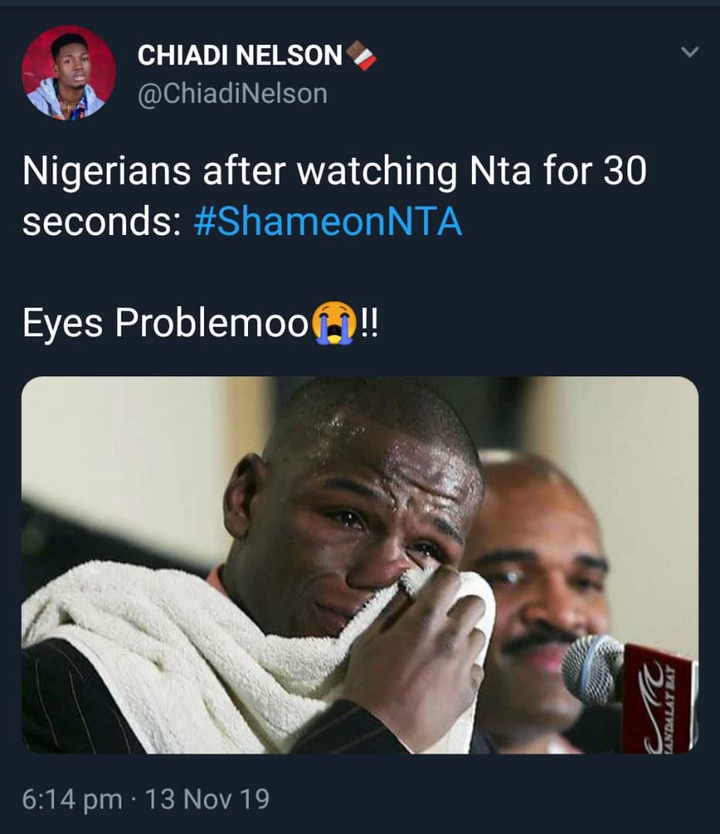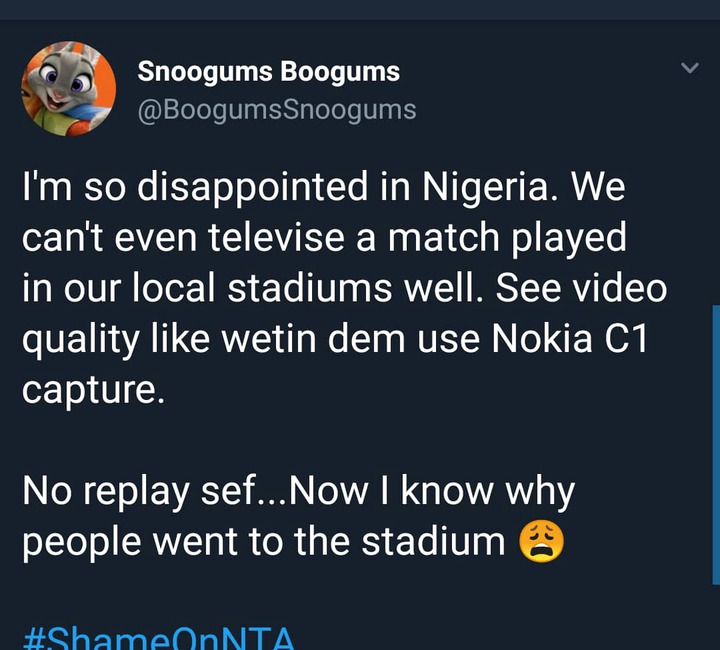 Stay with me.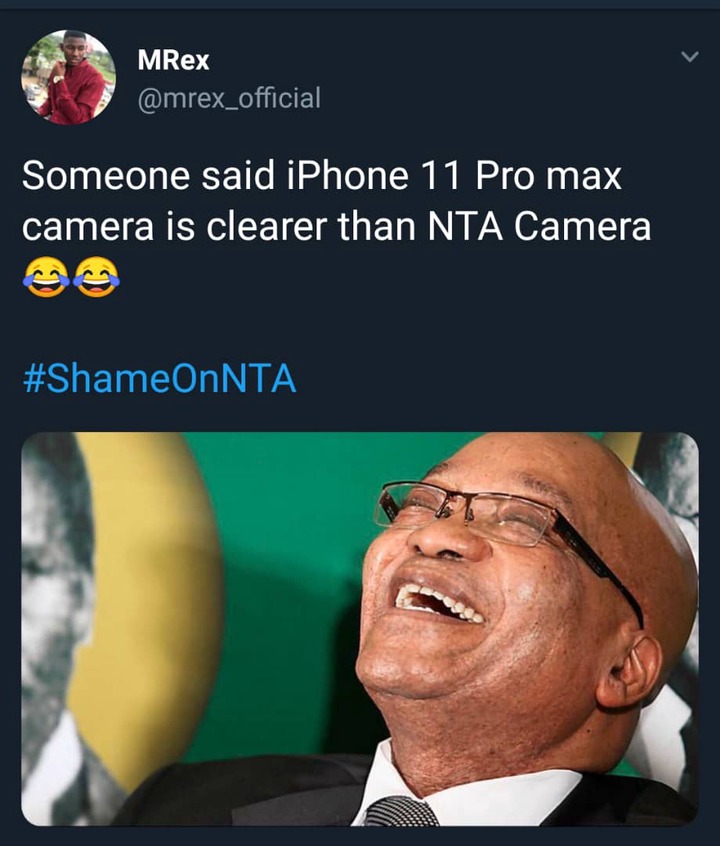 This show of shame has taught us nothing new. Without SuperSport, Nigeria can't boast of an indigenous broadcast company which is extremely sad. In fact, we can't do anything on our own.
AIT at some point showed live games but that too has been swept to the curb.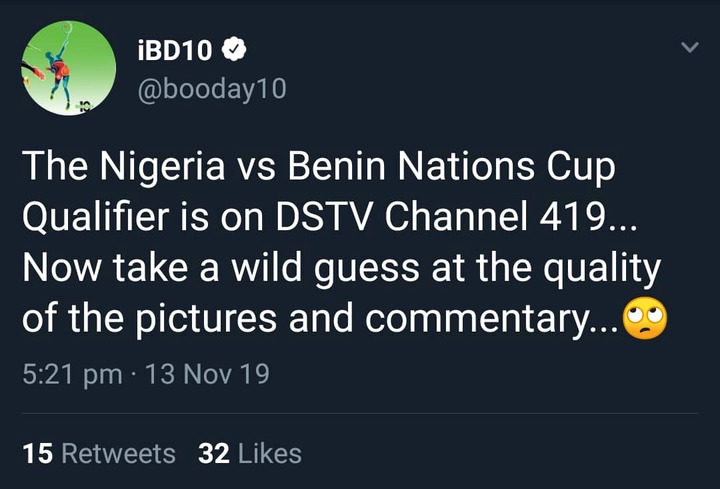 After many years of evolution in picture broadcast, it appears Africa's Largest TV Network as they continue to tag itself, have refused to move with the time and are stuck in a time capsule dating back to the 80s while the rest of the world flourishes.
I won't criticize the cameramen or the production team at the stadium in Uyo, a lot of these lapses mostly aren't their fault. Truth is, they can't give what they don't have because the quality of content produced boils down to the equipment made available to them. 
In all of these, that commentator who said Alex Iwobi is an Arsenal player obviously was high on something cheap. what in the name of beer parlor commentary was that gibberish?
I totally sympathize with those who saw the match, it must have been a torture having to sit through that 90 minutes just to see their dear Super eagle beat Benin republic 2-1, with goals from Victor Osimhen and Samuel Kalu.
Author: @phatill
Photography: Modo Victor