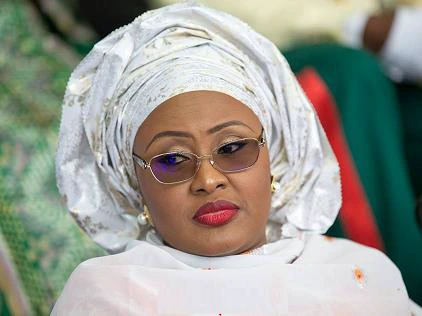 There are insinuations of disbelief in the Presidency that the wife of President Muhammadu Buhari, First Lady of Nigeria, Hajia Aisha Buhari, made a sudden return from the United Kingdom (UK), to Nigeria in the early hours of Friday, but was blocked from entering her residence in the Presidential Villa, Abuja, which was said locked by State House staff.
The First Lady of Nigeria is believed to have made the sudden return to the country because of the spreading reports that President Buhari will be marrying a new wife this Friday.
It was gathered that in a video which is going virile on Facebook sai to be shared by journalist George Onmonya Daniel on Friday, the Aisha Buhari was sighted protesting being locked out of her residence in the State House, Abuja.
She was cited to have agitated: "What did I do to you people." While a female State House staff was said to have responded:  "Nobody told us you are coming back Gogo,"
It was explained that 'Gogo' is the nomenclature adopted as a mark honour and respect for the First Lady by her staff and close friends in the seat of power.
The First Lady was said to have persistently screamed: "Is that why they should lock my room?
"Tell me this is the Villa, we have over 200 soldiers guarding us, 200 policemen guarding us, why do they have to lock this door?"
"What for… Enough is enough! Enough is enough!"
"Tell me when you are ready to leave this place."
The speculation that President Buhari is getting married to another wife, Sadiya Umar Farouq, Minister of Humanitarian Affairs, Disaster Management and Social Development, on Friday has been strong in the past 48 hours. Though, the Presidency was said to have refuted the report that President Buhari is marrying another wife in Friday but the President's wife has to be in the country to take her place or watch the events as they unfold.
Meanwhile, stakeholders in the country are on alert to monitor the authenticity or falsehood of the report as Friday is here.