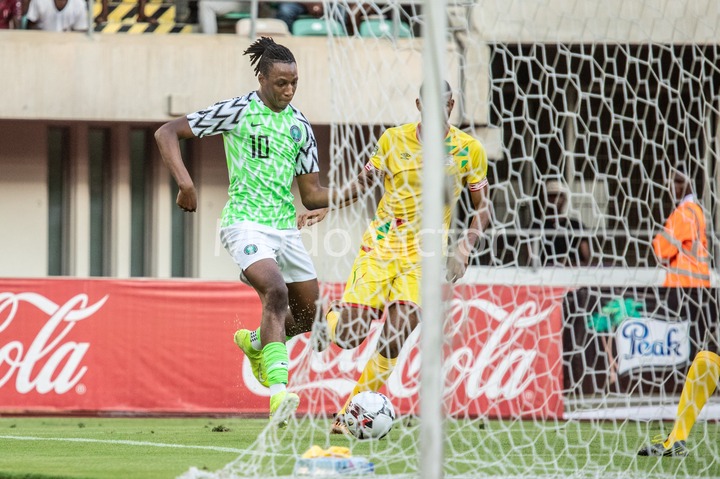 Alex Iwobi has spent 4 years with the Super Eagles and it's difficult to identify his best roles in the team.
It's even more complicated for him with the retirement of John Obi Mikel, he has to assume the role of a creative number 10.
Iwobi made no impact at the World Cup last year as the coach gave him little time at the tournament.
The insurgence of Joe Aribo will now be a big worry for Iwobi as he offers more to the team and could be the pick when the chips are down.
After watching Nigeria vs Benin game, I carefully studied the roles of both players, their weaknesses, strengths and what they will bring to the team.
For better analyses, see below the truths;
POSITION/ROLES
From his first game for Nigeria against Ukraine, the world knew the perfect role for Aribo. A box to box midfielder who loves to burst forward to create and score goals. For Iwobi, he started his rise under Wenger playing as a winger and Rohr adopted that role for him. (When the confusion started)
But since Mikel was inconsistent with the team during the last year of his international career, he was drafted to the middle and that started the position problems for him.
At Rangers under Steven Gerrard, Aribo flourishes as an all-round midfielder and against Benin, he showed and played the role well having 2 shots on target.
Iwobi tried to create chances but his final balls are still his major problem and the only tangible thing he did against Benin was the 1-2 that led to the penalty which Osinhem calmly converted.
It's now a big headache to identify the position that suits Iwobi as he plays two different roles for club and country. And for Aribo, it's just like a puzzle as he fits well with the same role for club and country.
GOALS
At Arsenal, Iwobi struggled to get goals as he scored just 15 goals in 149 appearances. A record that led to his sale from Arsenal to Everton.
From his days at Charlton Athletic, Aribo raked up 11 goals in 84 and in just 10 games into the season at Rangers, he has scored a goal. A better goal record to Iwobi.
In 3 appearances for Super Eagles, Aribo has scored 2 goals and against Benin, he had more shots on target than Iwobi.
Managers love midfielders that add goals to their team and despite arriving camp late, Aribo played all 90 minutes.
For Iwobi, it's now a must he improves his game as there is a better option in the middle of the park if Etebo comes back into the team.
STYLE
With his nickname, English Yaya Toure, you will know you will get the drive and goals. That's what Aribo brings to the team.
He covered more grounds than any other player on the pitch against Benin and for Iwobi, he contributed nothing special to the team.
With the midfield crowded, Ndidi and Etebo seems like the two players with automatic shirts and Iwobi and Aribo now have to fight for the remaining slot.
Aribo looks ahead of Iwobi in the team and Iwobi must learn from Aribo if he wants to be a dynamic midfilder.