A lot of people started asking questions when Hushpuppi and Zlatan Ibile posed with the same neon green Mercedes Brabus some days apart. It begged the question, who borrowed from who? or did they both borrow the car just to trend on the gram? It appears the latter, might be closer to the answer as it turns out that the car is owned by neither one of the celebrities. This was revealed by social media users in the post below…
The Brabus apparently belongs to a Dubai based Big Boy known as Woody. An article on Legit.ng recently identified him as Hushpuppi's best friend. In the article, the Nigerian big boy Hushpuppi's new best friend was talking about being depressed, despite all the wealth, he had at his disposal. The young man identified as Woodie had shared a post talking about what he is going through on social media.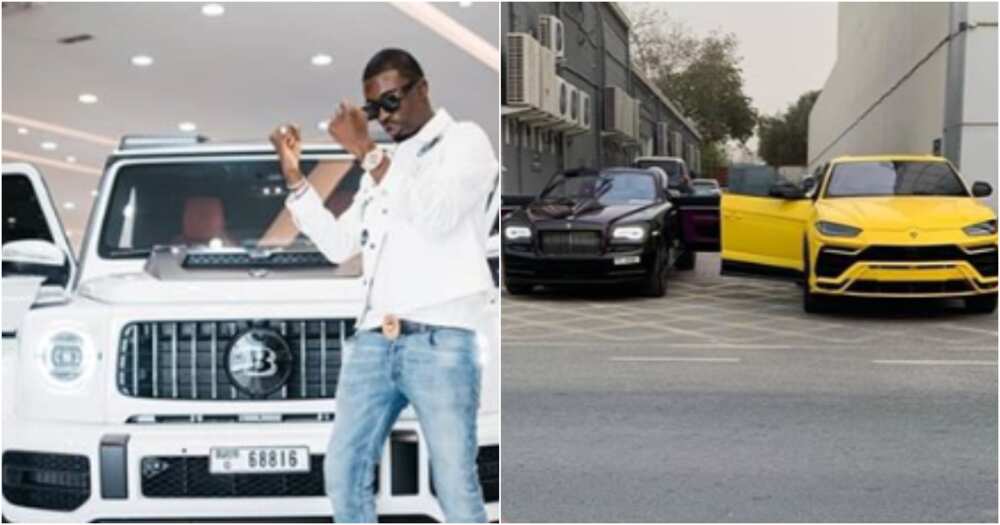 The Instagram big boy's friend had reportedly bought himself four luxurious cars worth billions of naira in the space of a month. Woodie had become known by many after he acquired Rolls Royce, Gwagon Brabus, Maybach and a Lamborghini. On his post, Woodie revealed that years ago he had thoughts of taking his own life and seven years after, the thoughts are back again.
Just incase you missed it, the internet went agog about five days ago, when Nigerian socialite, Hushpuppi uploaded a neon themed photo in which he posed with a neon green Brabus and wore a matching hoodie. The post was met with a lot of positive comments, especially with the deep caption it went with. The Dubai-based social media influencer wrote "My story is filled with broken pieces, bad decisions and some ugly truths. But it is also filled with a major come back, peace in my soul and grace that saved my life"
Days after Huspuppi's post, Zlatan Ibile uploaded a picture of his own, another neon- themed photo, were he posed with the exact same Mercedes Brabus that Hushpuppi posed with. How do we know? They had the same plate number! Zlatan Ibile captioned his own photo; "Do not wait to strike till the iron is hot; but make it hot by striking !!"
A post from Mr Woodie's page, shows this exact same Brabus, with the same plate number, but in a different colour. He captioned the post "Faith and prayer may be invisible, but they make all things possible… Congratulations To Me "
A user then commented, saying "68816, now lemon lit….", referring to the Brabus and its new colour.
Now we know who the rule owner is. Share your thoughts in the comment section below.