Orji Uzor Kalu was born on April 21, 1960 to the family of Mr. Johnson Uzor Nesiegbe Kalu and Mrs Eunice Kalu. He is the chairman of SLOK Holding and the Daily Sun and New Telegraph newspapers in Nigeria, who served as the Governor of Abia State, Nigeria from May 29, 1999, to May 29, 2007.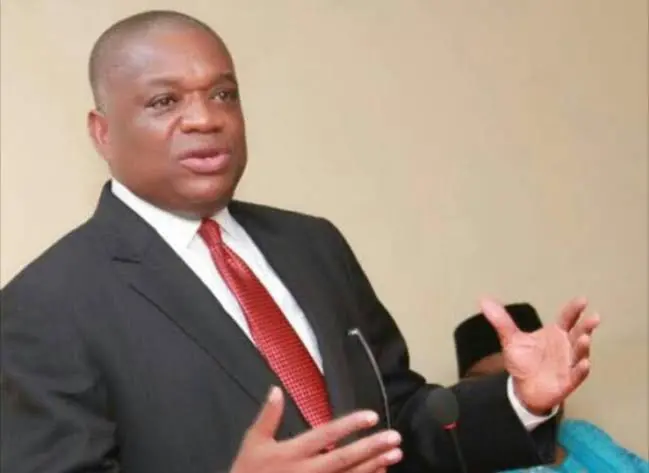 Prior to his election, he served as the chairman of the Borno Water Board and the chairman of the Cooperative and Commerce Bank Limited. Kalu was also a member of the Peoples Democratic Party (PDP), Progressive Peoples Alliance (PPA) and the chairman of the PPA Board of Trustees. He was the party's presidential candidate in the April 2007 general election. He is currently a member of the ruling All Progressive Congress (APC) after he officially announced his resignation as the PPA BOT chair.
Kalu was convicted by the Lagos Division of the Federal High Court on Thursday, December 5, 2019 and sentenced to 12 years in prison for N7.65 billion fraud. He was convicted for defrauding the government of Abia State where he was a governor for 8 years using his company, Slok Nigeria Limited.
Orji uzor Kalu Mansion in igbere, Abia state is popularly known as Camp Neya, the 400-room estate owned by the former governor of Abia state was named after his daughter Neya Uzor Kalu, the huge estate which comprises of several units of eye-popping buildings and other exotic structures was built in 1998 at Uzor Kalu's home town of Igbere Bende LGA in Abia State.      The 400 room camp neya Mansion comprises of:
1 over 36 jumbo sized sitting rooms
2 12 room presidential lodge
Governors lodge for all the 36 states and FCT
3 A 5000 capacity conference hall
4 a banquet hall
5 a Karaoke hall
6 22 Kitchens
7 102 toilets
8 76 Bathrooms
9 187 bedrooms
10 a golf course
11 a foothball pitch
12 an olympic sized swimming pool
13 one indoor swimming pool
14 basket ball court
15 lawn tennis court
16 sports centre
17 a church
18 a mosque
19 a bush bar
20 a filling station
21 ATM machines
22 a clinic
23 children's recreation centre
24 an ICT centre
25 several gardens
26 a police post
27 a military detachment.
See pictures