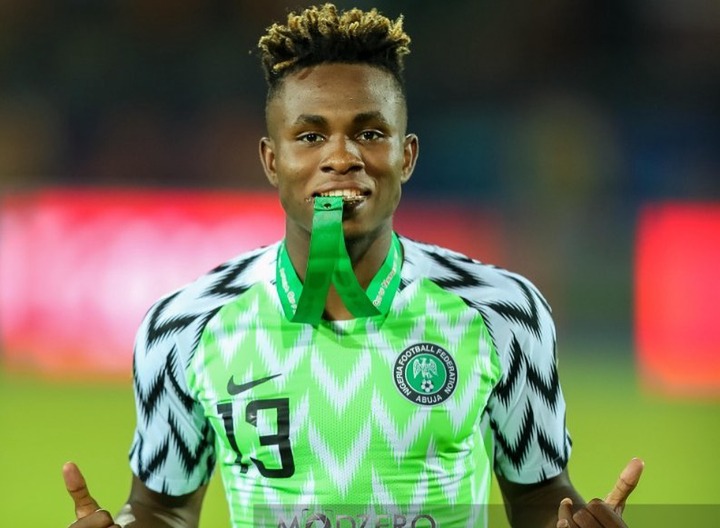 Samuel Chimerenka Chwukueze the yellow submarine football player of Nigerian descent born on the 22 May 1999 is a professional footballler who plays for the Nigerian football team ( Super Eagles) and Villarreal CF. The 20 year old has been a shining light from his teenage days , he participated in The 2015 FIFA U-17 Men's World Cup held in Chile where he scored 3 and assisted 3 for the victorious Eaglets, he aslo had a personal glory at the tournament by receiving the Bronze Ball.
He stayed away from limelight after that before his debut season for Villarreal CF where he was influential in the teams relegation battle in which he scored 10 goals and assisted 3. At the 2019 AFCON that Nigeria came 3rd, he said one goal thought out the tournament and shined like a million stars in Egypt. His overall performance of the 2018/19 season earned him nominations for The 40 Man Golden Boy list and Kopa U-21 Which is also known as the Balon D'or for players under the age of 21 in Europe. This season he has started where he left off and he has always being a thorn in the flesh of defenders with his pace, trickery and dribbles . Notable defenders in Laliga Santander can testify to it, he has been compared to the legendary Arjen Robben.
Nigeria is blessed with great attackers and they have dominated Africa in the time past even up on till now . Since the inception of CAF Awards in 1992, Nigeria has produced 4 winners with only one of them winning it twice which is Nwakwo Kanu. Surprisingly Austin Jay-Jay Okocha didn't win it when he was playing football game, Kanu Is the last Nigerian to win the award since 1999. All Nigeria has produced since then are podium finishers and it became worse after 2014 when no Nigerian player made it to the top 3.
With Samuels performance he could be next biggest thing to happen in Africa , if he continues to blaze on like this there's no doubt he will win the award and probably contest for the World Best. Currently he's amongst the best U21 in the world , same as his friend and teammate at national team level "Victor Oshimen".